Spring Book Sale
Mark your calendars now for the Friends of the Castro Valley Library 2023 Spring Book Sale:
Friday, May 5th from 6 - 8 p.m. (Members-Only Preview Night)
Saturday, May 6th from 10 a.m. - 4 p.m.
Sunday, May 7th from 1 - 4 p.m. (It's Bag Day, where a bag of books is only $5, and we supply the bags!)
We will need volunteers for all sale days as well as for the set-up and clean-up days. Contact us at 510-733-3285 or This email address is being protected from spambots. You need JavaScript enabled to view it. if you want to volunteer, or if you have any questions about the work or requirements. A signup sheet will be available in the Friends office approximately one month prior to the Book Sale date.
Members planning to attend? Please remember to bring your current (2023) Friends of the Castro Valley Library membership card on Friday and Saturday in order to take advantage of your $2.00 discount.
You can join or renew at the door, or purchase a 2023 membership ahead of time.
Now Open
Our current hours are posted to the right. We are also available to accept donations, with restrictions as noted below, and renew your membership.
We look forward to seeing you!
---
Please refer to the following guidelines before you bring in your donations.
The overriding guideline when you donate to the Friends is as follows: If you would not purchase the item in its present condition, please do not donate the item. This guideline is based on our ability to resell the item and our very limited storage space.
Presently, we are unable to accept:
Large donations (more than 6-8 shopping bags or boxes) without specific arrangements; please talk to volunteers at the Bookstore
Books and other written materials that are not in good condition, including those that are damp, moldy, smelly, smoky, with torn pages and covers, underlined/highlighted, etc.
Books such as:

General fiction or mystery books without dust jackets, or with older than 2010 copyrights. We may make exceptions for classic literature, science fiction, and fantasy (our decision)
Old or outdated atlases, computer manuals, price lists for collectors, travel guides, textbooks older than three years, library discards, pornographic materials, or catalogs
Encyclopedias and other multi-volume sets
Teacher edition texts without student books
Readers Digest condensed fiction and non-fiction

Audio-visual materials such as VHS (any subject), cassettes (any format), or vinyl records
Craft, food, National Geographic, or Consumer Reports magazines older than 12 months, or other magazines older than four months (please ask about specific cases).
Contact a volunteer for guidance before you bring in "questionable material".
Thank you for your cooperation in making the Friends Bookstore a pleasant place to browse and shop!
Friends of the Castro Valley Library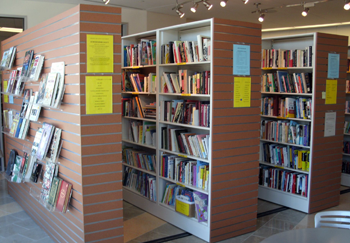 Friends of the Castro Valley Library is a non-profit 501(c)(3) organization serving our community and supporting the Castro Valley Library by providing funds for library services, organizing fund raising and community activities, advocating at the local, state and national level for public support of libraries and developing an active and well-informed membership.
Our BookStore contains over 2500 almost new and used books, audio books, CDs and DVDs with a constant turnover of the inventory. Only the best quality of all the donated books are sold in the store. Special books may be sold online through Ebay. In addition, each year over 1200 boxes of good quality books and audio-visual materials are put in temporary storage for our three annual weekend Book Sales. Remaining books are donated to deserving organizations and programs throughout Alameda County.