(From the February 2013 Circle of Friends Newsletter)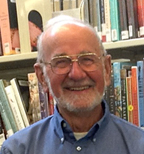 It seems remarkable that by the time you read this edition of the Circle of Friends Newsletter we will be well underway in the year 2013. This represents the fourth year of operation of the Friends in the "new" Castro Valley Library and we have much to be proud of during this period. Thanks to the great support of the citizens of Castro Valley and surrounding communities, the sales in the BookStore and other sources of income have provided funds in excess of $26,000 per year to the library and have built up our reserve funds to cover new initiatives and funding requirements of the library.
Little of this would have been accomplished without the major support of an amazing group of volunteers who help the Friends in the BookStore, in the Office, at the triannual weekend book sales, and for other activities critical to our operation. We could not provide the level of service to the library and community without their time, energy and enthusiasm.
At the same time, we continue to encourage other members of the community to join the Friends and, if their time and interests are appropriate, become volunteers. The Friends, like many non-profit, all-volunteer organizations are faced with turnover of volunteer support due to age,"burn-out", health issues, "moving on" to other interests and challenges, by-laws restrictions, etc. For example, the Board of Directors currently has five very dedicated people most of whom have led the transition of the Friends into the current operation. Two are in their last term of office, and three have "re-upped" for 1-2 years. We will be looking for new faces to lead the organization as 2013 goes along and certainly encourage current members to learn more about our operations and, hopefully, move into leadership roles in the coming months and years. Members of the Board would be happy to talk about the functions of the officers and the organization at any time; we can be contacted through the information listed elsewhere in the newsletter.
I hope that the New Year finds our membership in good health, good spirits, and excited about the days and weeks ahead in 2013. The Friends of the Castro Valley library look forward to greeting you at the BookStore, the Office and at the weekend book sales! Many thanks to all for their support and encouragement.
Ned Lyke, President
Friends of the Castro Valley Library