(From the May 2013 Circle of Friends Newsletter)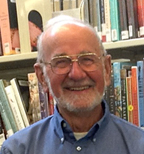 As I write this report to the membership it is a sunny, warm afternoon in Castro Valley, heralding the conclusion of a noteworthy and fulfilling academic year for the children and families in the community. Hopefully this time of the year finds all our membership in good spirits and looking forward to the coming days, weeks and months with positive outlooks and plans.
As many of you know, the Friends of the Castro Valley Library have been very busy in recent weeks. We had a successful weekend sale the second weekend of April; revenue was down slightly, but there were more attendees than we have ever experienced. Everyone was pleased with the turn out, the satisfied customers, and our ability to generate funds for the library, get books back into the reading community, and move the "leftovers" on to schools and charitable organizations. In addition to the sale, there have been many successful days at the BookStore.
The Board of Directors is engaged in discussions about Board expansion and creating a more formal organizational structure of the Friends. We probably will propose that two at-large director positions be added through elections at the Annual Meeting in November. This will require a change in the by-laws that will be proposed at the next general meeting of the membership in August along with more details of our discussions. Look elsewhere in this newsletter for a short comment on these plans.
The Board of Directors has approved the establishment of a PayPal Account to facilitate monetary contributions to the Friends. A link to PayPal will be on our website. The latter is undergoing considerable revision under the capable leadership of Mikel Estrin and Diane George, and we hope to be on-line very soon.
Elsewhere in the newsletter you will find other information about the current status of the Friends. I continue to be grateful for the wonderful support Castro Valley and surrounding communities have in the Friends activities, knowing that it reflects on your positive impression of the library. And, especially, I want to thank all the volunteers, who I consider my good Friends, for their enthusiasm, energy and good spirits.
Ned Lyke, President
Friends of the Castro Valley Library