Supporting the Library Staff During the Pandemic
During the current coronavirus pandemic, the Friends of the Castro Valley Library continue to support our incredible Library staff members who, even if we don't see them, are diligently working behind the scenes to service your library needs. On Tuesday, August 25, the Friends hosted a socially-distanced Staff Appreciation Luncheon for the Library staff. The Friends provided pizza from Castro Valley's very own Pizza Express, salads, sodas, cookies, and brownies.
Coronavirus Announcement
Due to concerns about the coronavirus, the Friends of the Library bookstore is closed until further notice.
During the closure, we cannot accept book donations. Please do not leave any donated books outside the store since volunteers will not be available to process them. Thank you for your understanding.
Additionally, for the safety of both volunteeers and patrons, we have cancelled the annual Winter book sale that was scheduled for December 4-6.
Friends of the Castro Valley Library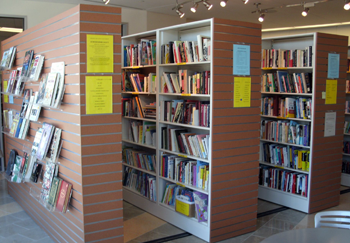 Friends of the Castro Valley Library is a non-profit 501(c)(3) organization serving our community and supporting the Castro Valley Library by providing funds for library services, organizing fund raising and community activities, advocating at the local, state and national level for public support of libraries and developing an active and well-informed membership.
Our BookStore contains over 2500 almost new and used books, audiotapes, CDs and DVDs with a constant turnover of the inventory. Only the best quality of all the donated books are sold in the store. Special books may be sold online through Amazon.com. In addition, each year over 1200 boxes of good quality books and audio-visual materials are put in temporary storage for our three annual weekend Book Sales. We also have off-site sales at Zocalo Café in San Leandro. Remaining books are donated to deserving organizations and programs throughout Alameda County.
Available on Amazon.com
The Friends currently have over 100 books and other media listed on Amazon.com. Our name on Amazon is FriendsofBooks, and our entire on-line store can be viewed at http://www.amazon.com/shops/A1AE92DUB78GQ4. You can access the store by typing the above string in your browser, by clicking on our name when viewing one of our listings or by clicking on the link above.
Don't forget to mention us when purchasing through Amazon Smile. When you select Friends of the Castro Valley Library as your charity of choice, we will receive a 0.5% donation every time you make a purchase. Many great items "from soup to nuts" are designated as Smile products, so please check it out.
Visit our on-line store to see what we're offering today!