Bookstore Temporarily Closed Effective Tuesday, January 4
Because of the current surge in COVID cases and the new Omicron variant, we have made the decision to temporarily close the Friends of the Castro Valley Library Bookstore.
While the Library remains open, the bookstore will be closed effective Tuesday, January 4. We hope we will be able to open again by the beginning of February, but that will depend on the situation.
We will not be able to accept any donations of books during this closure. Please hold onto your books until we are open again.
Happy New Year to all of you. We look forward to seeing you again when we reopen.
Friends of the Castro Valley Library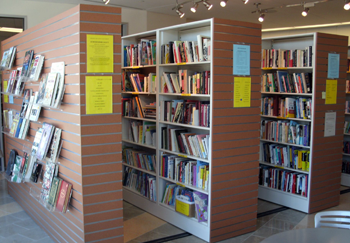 Friends of the Castro Valley Library is a non-profit 501(c)(3) organization serving our community and supporting the Castro Valley Library by providing funds for library services, organizing fund raising and community activities, advocating at the local, state and national level for public support of libraries and developing an active and well-informed membership.
Our BookStore contains over 2500 almost new and used books, audiotapes, CDs and DVDs with a constant turnover of the inventory. Only the best quality of all the donated books are sold in the store. Special books may be sold online through Amazon.com. In addition, each year over 1200 boxes of good quality books and audio-visual materials are put in temporary storage for our three annual weekend Book Sales. Remaining books are donated to deserving organizations and programs throughout Alameda County.