Coronavirus Announcement
Due to concerns about the coronavirus, the Friends of the Library bookstore is closed until further notice.
During the closure, we cannot accept book donations. Please do not leave any donated books outside the store since volunteers will not be available to process them. Thank you for your understanding.
Despite the challenges and limitations of the coronavirus pandemic, the Friends have continued to support and provide funding for the Castro Valley Library programming.
If you would like to renew or join with a new membership, we are now able to accept credit cards for the first time!
Simply go to our Square account and select the level of membership that is appropriate for you and enter the required information. You can also make a donation to the Friends on this site.
Friends of the Castro Valley Library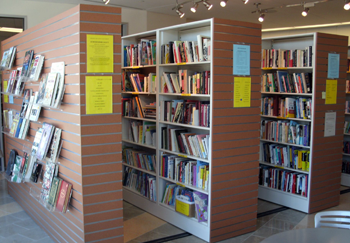 Friends of the Castro Valley Library is a non-profit 501(c)(3) organization serving our community and supporting the Castro Valley Library by providing funds for library services, organizing fund raising and community activities, advocating at the local, state and national level for public support of libraries and developing an active and well-informed membership.
Our BookStore contains over 2500 almost new and used books, audiotapes, CDs and DVDs with a constant turnover of the inventory. Only the best quality of all the donated books are sold in the store. Special books may be sold online through Amazon.com. In addition, each year over 1200 boxes of good quality books and audio-visual materials are put in temporary storage for our three annual weekend Book Sales. Remaining books are donated to deserving organizations and programs throughout Alameda County.